Do you want to get rid of the smell of sewage in your house? Easier than you think.
Fixing a sewer smell can provide a lot of extra living pleasure. Who likes to sit in the stench? A smell of sewage can be done in a number of ways. Having a professional look at it is often a pricey affair. The cost for a plumber to inspect the pipes can easily amount to € 150, -. On top of that, there's the cost of fixing any problems. A plumber is necessary if the sewer system is sagging or damaged. However, often odour problems relatively easy to solve. Bacteria in the piping can cause sewer odor in the house, as you can read on the page "causes".
Clearing air from drains with Drainpure
A professional is certainly necessary when a broken sewer causes a stench in the house or workplace. Often the sewer is in order but the problem lies with the decomposition processes of bacteria in the pipes which cause the smell. Drainpure is an ideal product to remedy the sewer smell. Drainpure breaks down the 'biofilm' of bacteria in the pipes. Drainpure can thus biological remediation of a sewer smell. Our customers experience that they remedy the sewer smell by using Drainpure.  Want to try it? You certainly should!
Why use Drainpure to remove odours from the sewer?
Works fast, actively and preventively against odour nuisance and sewage smell.
Very easy to use.
Tried and tested operation.
Not harmful.
Suitable for septic tanks.
For more information about Drainpure you can also contact contact us. A video (Dutch) in which one of our employees explains how Drainpure works can be found below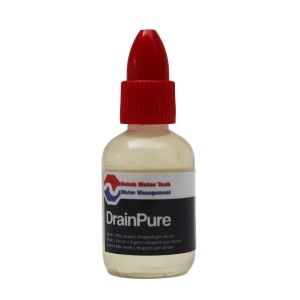 Effective decomposition of sewer odors in the home with Drainpure
The graph below shows what happens in the pipework after the dosing of Drainpure. H2S is the most common odour component.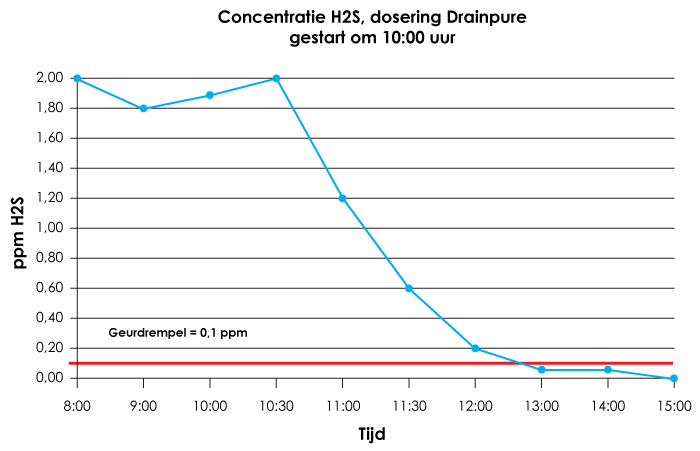 Our recommended products to remedy bad odours in your house